RASKB Songdo Walk
Date: Saturday, April 25, 2015 - 1:30pm to 6:00pm
Destination: Songdo City
Cost: 20,000W for RASKB members and 25,000W for non-members

Intended as the Dubai of the Far East, Songdo is a newly created city built on reclaimed land. Construction began in 1994, and despite the completion goal of 2015, there is much still to do, and ground has still not been broken on many major projects. During the weekdays Songdo is a cacophony of construction, and on weekends it's a surprisingly cozy urban utopia.
We'll visit NEATT, which only opened last year after several years' delay, walk through Central Park, do a tour of the Compact Smart City center, and hit the observation deck of G-Tower, plus probably a lot of other stuff.
Read more on the RASKB website or visit the event page on Facebook or register officially.
16 July 2014

Songdo Visit 2014
I only just realised I never shared these pictures from a trip to Songdo last summer. They were part of SKKU's summer program, so they were shared somewhere else. For this visit, we stopped by NEATT to find it wasn't fully opened yet, walked through Central Park, had a great tour of Compact Smart City, and then visited the observation deck of G-Tower, which accounts for a lot of what we'll be doing this Saturday with the RASKB tour.
18 April 2015

Monkey Business Show
It's nice having a show in your neighbourhood. At least when the cops don't turn said neighbourhood into a labyrinth of police buses. Getting there from Bukchon to Seochon was an ordeal, but I made it.

This was a free show, with a very good lineup. Madox opened, and I'm planning to interview Jinyong for the next issue of Broke, whenever that is, to find out more about how that band works. We also had Fishingirls who were more enthusiastic to be on stage than any other band I've seen, followed by Seoul Dolmangchi's second show and then an excellent set by Green Flame Boys, and finished with Joongshiki, who converted a lot of people at my Broke show a couple weeks earlier.

Sad news though: Monkey Business is closing next month due to rising rent.

Also, on the topic of punk, here's a recent blog post I wrote on Korean punk history.
16 April 2015

Sewol Anniversary
Exactly one year ago, governmental authorities showed their shortcomings by allowing a half-assed ferry company operated by a religious cult to send a ferry out into the sea. When it listed and sank, the crew (recruited from the cult, all but one) told the passengers--mainly schoolchildren--to stay below in their cabins, while they evacuated. Over 300 lives went down with this ship, a situation that was exacerbated by a stalled rescue services response and further slowed by journalists gumming up the access roads for what few rescue services were being sent. The de facto head of the ferry operator/cult escaped justice, later being found after an extensive manhunt turned up his body, itself separated from its de facto head in a field amid a few bottles of bizarrely expired soju (no, I didn't know that stuff could expire). A vigil by the parents of the 250+ students was turned away by the government at almost every opportunity, and in response, the parents and their activist supporters turned away the government. The government clearly feels awful about this but doesn't want too much transparency. A year later, plus a handful of smaller civic disasters, and nothing has really changed.

This is probably the biggest protest I've ever attended in Korea, not necessarily by number of protesters but by size of police response. One article I read said there were 10 000 riot police deployed for this event. Another article said there were 10 000 protesters, which seems like a serious underestimate.

I attended the protest in Seoul Plaza in the early evening, then went home for a few hours and decided to head out again when I could hear the demonstration moving from my window. I discovered that the police had sealed off my neighbourhood, completely cutting me off from downtown in an attempt to defend Cheong Wa Dae, as they frequently do. I was trapped in my own neighbourhood...or I would have been if I didn't know about the mountain pass to Sungkyunkwan. Downtown Seoul was partitioned off by riot police buses and turned into a maze. I ran into a familiar face around Boshingak and we helped each other get through the maze to the center of the protest, in Gwanghwamun Plaza. Around 1am I decided to navigate out of the labyrinth, only to discover due to gates closing and police redeploying that the maze had completely changed.
13 April 2015

Songdo Again
I went back to Songdo to do more follow-up research for the RASKB tour. This time I wanted to investigate an interesting building called Tomorrow City. Turns out it's closed since 2011. I also wandered around more of the island, finding very little other than a whale statue and a phone booth. It was an overcast day, and that made the place all the more depressing. Anyway, should be a fun tour, and there will be quite a lot to see. Just, some of it isn't completed yet, and some of it was completed years ago and now sits neglected and empty.
11 April 2015

Sewol Anniversary
Speaking of cops, there were a lot of them around Gwanghwamun Plaza. It's almost the one-year anniversary of the Sewol sinking, and Saturday was awash with activity and music. I expect that Thursday will have a protest as well to mark the actual anniversary. Curious how many peole will make it out.
11 April 2015

Cop Mountain
I went up Bugaksan and came down Inwangsan. It can be confusing up there. Anyway, I'll refer to this area as Cop Mountain due to the high number of cops everywhere. They're not in the pictures, but they were around to make sure nobody was taking pictures in certain areas.
9 April 2015

Songdo
As you can be reminded by the post above, I'm planning an RASKB visit to Songdo. I've taken whatever spare time I've had to visit the place and figure out the best places to go. And the original itinerary has been ripped to shreds, seeing as how quite a few of the attractions are still not opened, unlike what I'd thought I'd heard. But we've also figured out a few more interesting attractions to visit instead.
9 April 2015

Incheon
Every trip to Songdo takes you through Incheon. Well, at least if you do it right. I saw some interesting sights before being stranded in an abandoned neighbourhood. Escaping from Incheon is always a bit difficult.
4 April 2015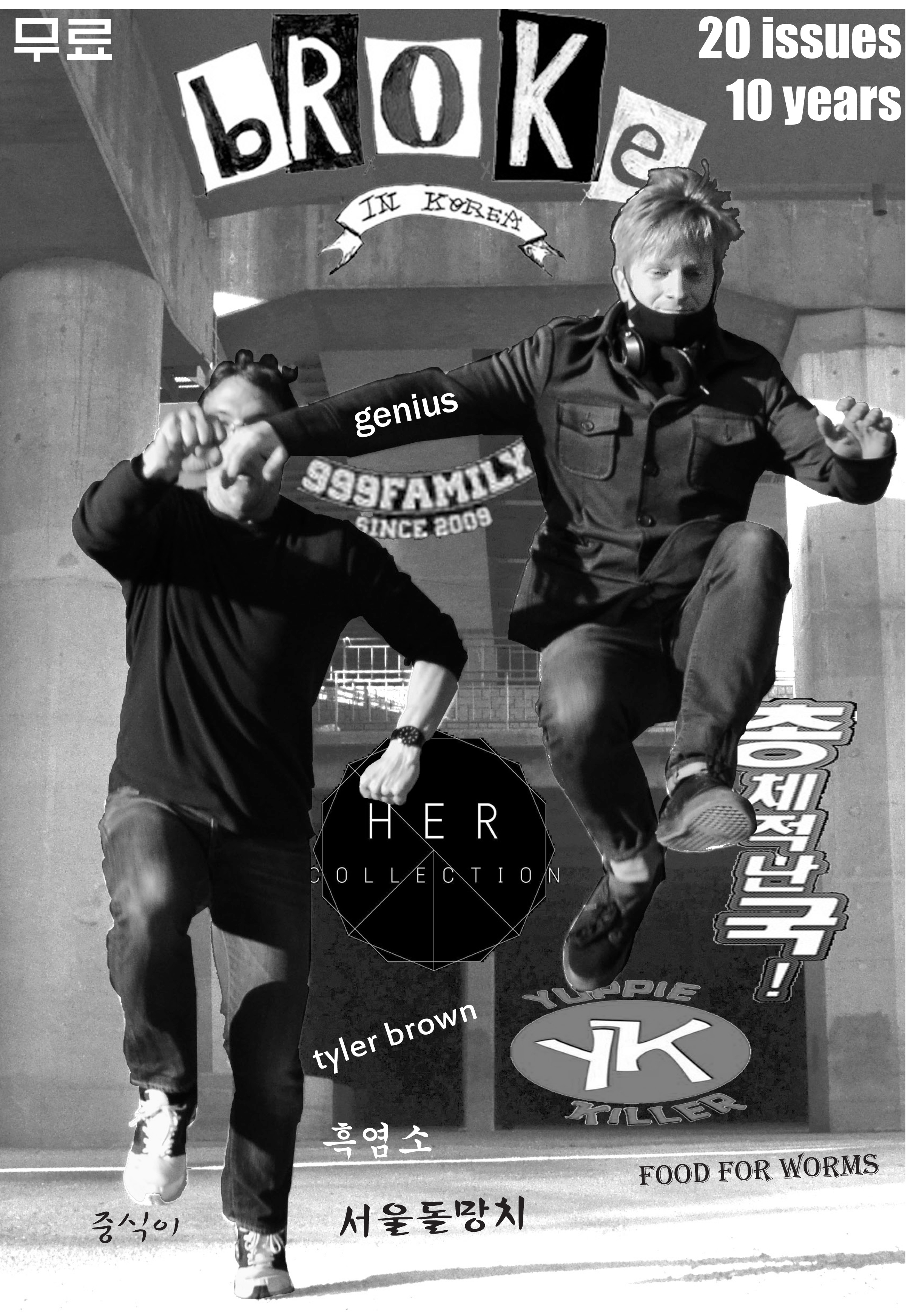 Broke in Korea 10th Anniversary Show
Well, everybody survived the Broke in Korea 10th Anniversary Show. The latest issue was released and can be downloaded here.

We had a very interesting mix of bands, some familiar and some totally new or seen in a different light at this show. It was pretty wild but nothing ever really went wrong, other than the cops showing up around 11 due to noise complaints from the newly opened tourist hotel across the street.
1 April 2015

April Fools' Day
For obvious reasons, I want to be careful what I post on April 1. Other than hearing about some pretty extreme homophobic rezoning issues, reading a magazine from 40 years in the future, and discovering that some of my favourite bands were playing a reunification festival in North Korea, it was a quiet day with some interesting discoveries. I found a mildly interesting abandoned building on the way to Dongdaemun, and over there I found a highrise that seems to be having lots of problems.
27 March 2015

Bye
Four of my closest friends are going to be leaving over the next couple weeks. I managed to gather three of them here: Nels, Ken, and Jessica.

Nels has run down his six-month tourist visa and needs to go back to the US in order to keep the door open on applying for American citizenship. He is getting married to his girlfriend Sohhee before leaving, so soon enough both of them will be able to settle comfortably in either Korea, the US, or Canada.

Ken got into the master's program for documentary media at Ryerson, and is moving to Toronto where he will conquer the world's documentary media industry.

Jessica...passed her classes at Le Cordon Bleu Seoul and is going to take her next semester in Australia. Don't ask me why.

Tyler, who was too sick to come out, is moving to Jeju to work at Magpie Jeju.

We met up, visited a lot of places, set off fireworks, at a lot of chicken, and watched Nels propose to his fiancee.
22 March 2015

Seokjeon Daeje at Sungkyunkwan
As you probably know if you've visited this site in the past week, I led another RASKB tour to Sungkyunkwan for the Confucian rite Seokjeonje. You can see all my pictures here, or visit the Korea Blog for a more thorough writeup.

Last September, last time I tried to do this tour, they changed the date on us. To make up for it I dropped the price and convinced the SKKU Museum to stay open. This time, we headed downhill and arrived just as the ceremony started. It was quite a performance and I had the music stuck in my head the rest of the day.
21 March 2015

Smartphone Pictures
After my camera battery died, I pulled out my smartphone and used that for a while. Most of the pictures are from around home.

As long as I've lived on this street, I've wanted to make a video game where you have to go down this road as quickly as possible, while avoiding any collisions and trying not to get into people's pictures. It can be played on the easiest setting which is walking, or medium which is on a scooter or bike, or hard which is a minivan.
21 March 2015

North of Seoul
I ventured up over the slope of Bugaksan into Seongbuk, the area immediately north of Seoul as of its traditional boundaries. What did I find? Abandonments, as usual. And other stuff.
20 March 2015

Cheongnyangni
I just realised I'd been spelling this area wrong, as Cheongnyangnyi, for some reason. It doesn't look right but it still feels instinctual. Anyway, these were all taken from the roof of the Samsung Insurance building.
18 March 2015

Birdwatching
Well, putting birdseed out did work this time. At least two pigeons have learned we have birdseed. It was a rainy day, but Millie was willing to sit on the sill where rain was hitting her in order to watch the pigeons come right over to her. These two pigeons were fighting quite a bit for dominance of the birdseed, and it sort of mirrored the conflict on the other side of the screen between these two greedy cats. We saw some magpies way in the distance, but no other birds yet. Initially there were five pigeons but only two of them stuck around long enough to find the seeds.
16 March 2015

Munmyo Jeryeak
In preparation for the RASKB tour to Sungkyunkwan, I stopped by the SKKU museum to learn a bit more about the relevant musical instruments used in the performance and visit the offices of Sungkyunkwan Confucian Academy. So, here are some of the main instruments. I'm pretty sure these aren't the actual ones they use for performances, if they do indeed use live music.

Anyway, the group is getting pretty big, but there's still time to sign up.
14 March 2015

Antifascist Show in Susaek
So there's a new government-funded venue right outside Susaek Station. It's a nice building filled with all sorts of things for musicians including live music space and practice studios. They don't allow drinking in the live music space itself which is a bit irritating. Anyway, this was the first show of Seoul Dolmangchi, a new band inspired by working-class politics as laid out by left-wing skinhead bands like the Oppressed. They were fun, and we also got a pretty bizarre Yuppie Killer set in which they were too sober to ignore their lack of musical skills, we played in traffic with Yamagata Tweakster. Plus, Kuang Program, Scumraid, Huqueymsaw, and a couple others I missed.
13 March 2015

Reggae Night
Just a few pictures from a busy but not very photogenic night. I went to Zion Boat for their second anniversary to see Philip K perform, and while it was a very fun performance, it was a bit too intimate for me to pull out the speedlight or anything. And my pictures of Pegurians over at Ruailrock really didn't work out due to how those damn musicians never can stand perfectly still.
12 March 2015

Upstream of Cheonggyecheon
There've been talks of restoring all the streams that originally fed Cheonggyecheon. The latest addition is this newly constructed canal that runs along the property of the new Gwanghwamun D-Tower. This thing runs directly south to the source of Cheonggyecheon, and while it's for show, it traces the path of an ancient stream (that probably still is hidden away underground).
11 March 2015

Birds
After attending an RASKB lecture on birdwatching in Korea, I decided to try again with using birdseed to lure more birds onto my roof. I'm not too interested in birds, but Millie and Buster are.
10 March 2015

Ta, Neil Ta
For Neil's last day in Korea, we went for Ho Lee Chow in Myeongdong and then hit a few roofs. Things got a bit tense when we were ambushed by construction workers who'd seen us on one roof and wanted to know what we were doing. After getting Neil to erase a few photos (they couldn't care less about me), they let us go on our way and were quite nice about it.
9 March 2015

Underground
So, Neil Ta is fucking done with rooftopping? What about subways?
7 March 2015

Yuppie Killer Cotton Candy release
Yuppie Killer has released their latest album, in tape form for some reason. As expected, they had a show in Double A Studios, and thanks to their free alcohol, which was a mix of whatever they could get, including at one point Everclear, many memories were made and promptly forgotten.

The show also featured the possibly final performance by Mixed Blood, during which my camera died before miraculously coming back to life. .
6 March 2015

Yongma Land
I discovered that the last time I visited Yongma Land was December 2013, meaning I didn't go there at all during 2014. The owner still seemed to remember me, and he keeps copies of all the articles ever written about his park.

Anyway, for a Friday afternoon, the place was pretty crowded.
6 March 2015

Woorim Market
On the way to Yongma Land, we took the wrong bus, which meant that we had to get off a bit farther and walk through a market, which turned out to be a pretty good time. So good that we took the same way back when we left.
5 March 2015

Dongdaemun Roofdogs
Last year during Javin's visit, we discovered that one of the department store buildings of Dongdaemun Market has dogs in cages on the roof. There seem to have been two of them then, and two of them now, and their colourings are close enough that they could be the same or related. Pretty weird.
4 March 2015

Yongsan
Taking the ITX train from and back to Yongsan Station, we decided to hit the roof and then hit the tent village in the former red-light district, which has become a ritual of urban exploring in Korea.
4 March 2015

Seoul Ski Resort
Sometimes you get on a train and go on a long ride, only to find that what you were looking for is gone. This time, it was Seoul Ski Resort, an old ski hill located in Namyangju. Ironically, it's just uphill from the former location of Jumbo 747. However, I feel like fate will find a way to tempt me back to this small corner of the city again.

Anyway, despite security and increased razor wire, we decided to climb the hill and get in anyway, just to make sure the magnificent ski rental lodge was definitely gone.
2 March 2015

Neil "Fucking Done with Rooftopping" Ta
Neil caused a lot of controversy last year when he wrote about "5 Reasons Why I'm Fucking Done with Rooftopping." For better or worse, the article is kind of irrelevant to Korea, where the fads and tropes of rooftopping have passed by quietly. Anyway, Neil hasn't held back when it comes to rooftops in Korea.
2 March 2015

Abandoned Neighbourhoods
I brought Neil along on a walk from one abandoned neighbourhood to another. We also did of course hit some roofs.
1 March 2015

March 1
To celebrate Korea's independence movement, we went to an abandoned oil tanker, then hiked across Digital Media City, hitting a rooftop, enjoying some public art, and ending up in a demolished shantytown.
27 February 2015

Cat Cafe
We had some time to kill, so Neil suggested coffee. I'm not a huge fan of coffee on its own, but how about a couple dozen cats? We went to the cat cafe next to Hongdae Playground.
27 February 2015

Namdaemun
I needed to buy a new remote shutter for my camera, so that meant a trip to Namdaemun Market. I met up with Neil Ta who's visiting Korea for a couple weeks.
23 February 2015

Arboretum
A regular walk through the woods, followed by an interesting reveal: we've just discovered Korea's oldest arboretum.
21 February 2015

Holy Mackerel Village
A walk through a pretty typical abandoned neighbourhood, barring the facts that it's quite extensive and it's outside Seoul. Also, some of the most vicious hired goon graffiti I've seen since the Yongsan Disaster, all targetting one woman seemingly. Definitely a refresher for all of our vocabularies.
20 February 2015

Return to the Nightmare Lab
Korea's biggest holidays are always great times to visit some of the more sensitive/intense places. This year we decided to visit the Nightmare Lab. It was a fairly large group which limited our mobility in certain ways, but we still made it into the Nightmare Lab. This time we looked closer at the specimens, and despite me fearing that the fluid levels were dropping (which looking at older pictures they aren't), we discovered that most of these specimens are extremely old, dating back to the '50s and '60s in most cases.

Entry is increasingly sketchy and we usually have to rely on prior acts of vandalism. Also according to some sources, this place may be getting refitted into something new sometime this year. Will the nightmare come to an end?
19 February 2015

Empty Embassy Compound
Back around 2007, my attention was drawn to the Empty Embassy Compound, a brownfield zone located in prime real estate between Gyeongbok Palace, Insadong, and Bukchon Hanok Village. Since writing that article for Asia Pundits, I've managed to find a way in, though it's so public that I could only do it at times when the area isn't crowded, such as late at night or on major holidays. So, now it's a major holiday.

Apparently Korean Air was getting ready to redevelop the area into a luxury Hanok hotel; a major roadblock had been the girls' school next door, due to zoning restrictions preventing hotels from opening near schools, but discussion was made of cancelling the law or closing the school.

But then with the blowback over the "nut rage incident," KAL lost the public support it needed to push this through, so we're ending up with a big empty weed jungle and mosquito swimming pool for the foreseeable future.

This is questionable interest to people who are into urban exploration for the photos, but it's a very bizarre tract of empty land inside the downtown core of one of the world's biggest cities. Going there, I was struck by the emptiness as well as the wide open views of Seoul's downtown skyline. Walking through there was much more a mind-opening experience than I would've figured -- well, I already knew that empty field plus downtown would be interesting for me -- but it was a very quality experience, up there with any abandoned neighbourhood I've ever visited. This is a new way to experience downtown Seoul, while standing in an urban wasteland.
18 February 2015

UE is a Crime
Javin tipped me off to Moses Gates, an explorer turned urban planner who was spending a little over one day in Seoul on his way across Asia down to Australia. Kind of odd timing being around during Lunar New Year, and he got to experience Seoul at half mast, as the crowds just weren't there, and too many restaurants were closed. With help from Ryan and Tyler, we took him to abandonments, rooftops, and subway tunnel. It was one of those days where we made the most of limited time and drank way too much.

And still, the highlight of the night was when we got the DJ at Vent to play "UE is a Crime" by the UE Kingz.
17 February 2015

FC Seoul vs Hanoi FC
Ryan Ihm is getting ready to leave Korea, and his last FC Seoul game was the night before the Seollal long weekend. Verv and I decided to come along and meet all the new foreign FC Seoul supporters--there sure are a lot of them, and they sure take the team seriously. No Dunbar rolls and double-fisting soju/baeksaeju, just lots of cheering and deep analysis of the game.

Anyway, FC Seoul destroyed Hanoi 7-0, which was entertaining but about halfway through I was thinking it would be nice if the Vietnamese got one shot in. It sure was a violent game though, with both sides racking up the fouls. I guess since this league plays so infrequently, players care less about getting red carded, because there's chance enough they'll have moved onto a different team by the time the next game comes up.
14 February 2015

Cry and Singalong Together
CST reformed after more than five years apart. I think their last show was in 2008, possibly the final Skunk Hell show. Even though they've been gone for so long, they haven't been forgotten, though maybe more the people than the band itself. Frankly, if you're going to drag your band out of retirement after over five years, better to call it a reunion show than a "last show," because then you won't seem quite as hypocritical at the next reunion show in 2022.
10 February 2015

Guryong Village
Surprisingly I haven't visited Guryong Village before. It's the shantytown in Gangnam that is going to be redeveloped soon. It has always been a very tense place, and I really don't like going places where I could bother residents. But I figured it was time to pay it a visit before things get too crazy. There was a fire in November, and just four days before my visit there was a pretty crazy battle with hired goons.

The area is mostly still pretty lived in, and gets a lot of foot traffic (and car traffic) from people climbing the mountain behind it. There are lots of dogs and cats, and although this was a pretty casual day, I see bad things in this area's immediate future.
6 February 2015

Warkerhill Motel
One of my favourite parts of travelling is staying in motels. Nels disagreed with me that this place was chintzy, but there's no beating the hilarious name. For those of you who don't know, Walkerhill is a pretty upscale hotel in Seoul. This is on par with the Hilton Motel I found in darkest Gyeongbuk (although I just checked Daum and there may be as many as 71 Hilton Motels throughout Korea).
6 February 2015

Hitting the Slopes
We went out on the ski slopes and had a closer look at the chairlifts, which was my favourite thing to crawl around. I got many pictures of this exact scene from many angles, showing the park with the green lift in the foreground.
6 February 2015

Last Resort
The whole point of this trip was to reach the abandoned ski resort. There was only one other human on the site, but we gave him a wide berth. His guard dogs were very friendly though, and sad to see us go.
6 February 2015

Car Trip
Renting a car to get out into the mountains was a fun enough part of the trip. Despite recently getting a Korean licence, I decided to let Nels do most of the driving while I stuck to navigation.
5 February 2015

Jeongdongjin
Last time I was here was June 2004 during the rainy season. I had a meal in the ship, which I'm pretty sure was random inedible seafood. It's a small resort area with not much beyond hotels and seafood restaurants.
5 February 2015

Train Ride
Six hours on trains. That's all I have to say about this.
3 February 2015

Abandoned Buildings
I spotted these buildings on a bus recently, and didn't think much about them until I was bored one day. Not the most exciting place, but it's certainly in a surprising location.
31 January 2015

Burning Hepburn vs SkaSucks
Walt is leaving Korea this month, so Redboi came up to Seoul and decided to have one last weekend with him. We hit Zion Boat and This is Chicken, and went to a pretty wild ska-punk show at Ruailrock which I think was the release party for a SkaSucks/Burning Hepburn split that I never got a copy of.
27 January 2015

Javin 2015 Part 2
Javin's finished his stint in Korea for the third consecutive year, which means 2015 is already over and we can just wait for 2016 now.
17 January 2015

Javin 2015
This marks the third year in a row that Javin came to Korea to teach short-term winter break programs and travel a bit more around Asia. Just like the last couple years, this month has marked a busy period, as we get a lot done in a short time.

This time he brought his quadcopter with him, and we found a few places to launch it where we wouldn't bother any residents. I'm looking forward to seeing his footage soon. Hell, I'm still looking forward to seeing his stuff from 2013. Toronto is Home, Hong Kong is Home, but what's Seoul, chopped liver?

We also hung out with Ali, formerly of the Daegu math rock band Colours, now of the new project Mountains.
10 January 2015

RASKB Tour of Kyung Hee University Natural History Museum with Verv
As soon as I found out Verv worked at KHU's Natural History Museum, I figured it would be a very good choice for an RASKB tour. Verv talking about animals is always the best thing ever, and the museum has six storeys of taxidermy and fossils and so on. Plus the banner art running the stairwell is pretty bizarre in a retro sort of way, depicting natural history into an apocalyptic future.

We ultimately had a group of nine, which was probably right the size for moving around this building and staying together. Then after, we went out to a restaurant, followed by a bar, followed by a rooftop.
2 January 2015

The Bone Tunnel
I made it less than 24 hours into 2015 without doing anything of questionable legality. Anyway, as we discovered on Christmas, the way has been paved for reaching the Bone Tunnel without having to crawl over ice or scale a very sketchy fence (though you can still do the latter, if you like).

Anyway, I set back to visit the Bone Tunnel, mainly to scout out the entrance and only go a little ways inside. I brought a Ukrainian along with me because when has that ever gone wrong (NSFW)?

I hit three very difficult tunnels that day, and yes, I did find monsters at the end of it.

Also, you may note that the entire 2014 year is now open in the archives for you to look through.
31 December 2014

New Year's Eve
For New Year's Eve, I hiked up a mountain. Right around midnight, a big group of people came and fired off tons of fireworks, ruining the mood. They were up there for about 20 minutes, and left before the cops could respond. I was not involved with them, and Daehanmindecline does not support any illegal or disruptive activities. Here's for a crime-free 2015!
29 December 2014

Yonsei Under Construction
Has anyone noticed what a dump Yonsei looks like lately? Oh well, could be worse: you could be stuck in Songdo.
29 December 2014

Interview with Colin
Last summer, I was interviewed by Colin Marshall, an urbanist who was visiting Seoul for a limited time and interviewing anyone he could find, seemingly. He went on my RASKB walk of Yongsan, and afterwards we sat at the train tracks bar and did a one-hour interview that ended up being pretty thorough, touching on a lot of urban exploration and urban renewal issues, as well as the punk scene and how life in Korea has changed over the past decade. I can't say whether I recommend listening to it, but he is very thorough about what's in it, plus there's lots of train sounds.
27 December 2014

All Together Now
This show was the closest thing we had to a Christmas/New Year's show that I could find. There isn't that much to speak of happening on Christmas or New Year's Eve, but this one show between the two had a very interesting mix of older mostly punk bands and younger mostly hardcore bands. I was more focused on the zine, as well as the attendance of Verv, so I didn't start taking pictures until very late, starting at Rudy Guns and also getting Things We Say, Return Bois, and Find the Spot.

I also released the 19th issue of Broke in Korea at this show, which can be downloaded at the usual place, where you will also find almost everything you need for Hongdaepoly.
25 December 2014

A Very Merry Host Christmas
Though I consider visiting the Host on Christmas Day to be an annual ritual, I'm pretty sure this is only the second time we've done it on the day (the first being my original visit in 2009). Things have changed a lot under Seoul, but still the only monsters down there were the ones in our group.